NIEMA FOXE has a history of design, spanning many years.
She first discovered her love of crochet at age 9 at Private School; her first endeavor turned out to be a hat. She went on to cultivate her love of hand-made items and later attended FIDM/LA & BCLB.
Using the knowledge gained from these schools she expresses her love of design with crochet, weaving, hand and machine-knitting; many of her on-site products are inspirations from her schooling in textiles design.
Niema also has available an impressive collection of beaded jewelry, with or without genuine gemstones.
Sail through the seasons with new looks
for Teens, 'Tweens', and 'The Rest of Us'!
Our attractive and trendy hand-crocheted skirts are
100% USA-made, with a blend of Viscose-Acrylic yarns
and can be worn all year long, dress or casual.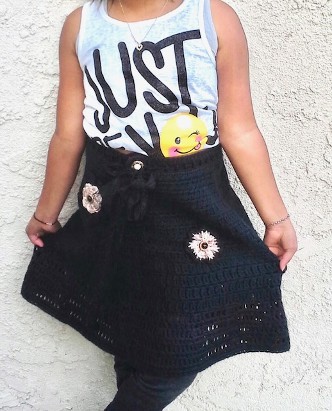 Introducing the NFC hand-crocheted skirts!
Skirts have lace tie-ups, crocheted flowers, Deco-Buttons,
come in a variety of colors and sizes, and are easy-care.
Please watch this space for items and pricing info
or visit our sister site, www.Niema-FoxeCreations.com!
WE USE SITE-WIDE FREE SHIPPING VIA PRIORITY OR EXPRESS MAIL
PRE-ORDER NFC SHAWLS AND GIRLS SKIRTS FOR EARLY DELIVERY!!
GO 'BOHO' OR STYLISH WITH NFC CUSTOM-MADE
CROCHETED/KNIT/WOVEN SHAWLS AND SCARVES!
Other colors and styles will soon be available for the warmer seasons.
Please watch this space for updates and info!
NFC SHAWLS ARE GREAT AND CAN BE WORN ALL YEAR-ROUND!
WEAR THEM FOR THOSE COLD CALI-NIGHTS ON THE BEACH!
(Pre-order advised for early delivery)
CONTACT US W/QUERIES OR TO PLACE SPECIAL ORDERS VIA EMAIL!
"Uptown Shawl", hand-knit only by Niema, in luxe black Mohair {$74.99 + Tax - free shipping!} (Please allow two to four weeks for delivery of Custom items.)

PLEASE NOTE: DUE TO THE COVID PANDEMIC DELIVERY TIMES MAY VARY OR BE MUCH LONGER.

"boDACious" Shawl, knit in Luxe Magenta/Blk Mohair {$174.99+Tax}

(Please allow two to four weeks for delivery of Custom items.) PLEASE NOTE: DELIVERY TIMES MAY VARY DUE TO THE COVID PANDEMIC.

CHECK OUT OUR GEMSTONE AND


'CANDY-GIRL' FASHION BRACELETS

ON OUR CONTACT US PAGE





Use Hand-strung Bracelets with the focus on Wellness to enhance your Fashion choices!

Shop LOFT'S HOLIDAY SALES NOW!

LOFT - GREAT BARGAINS,


FABULOUS MERCHANDISE!

~*~*~*~*~*~*~*~

SHOP BUDGET PETCARE.COM




FOR

HOLIDAY DEALS AND SPECIALS!




22% OFF everything + FREE Shipping + Cashback & much! 4 Day Sale, HURRY! Order Now!

CYBER MONDAY SALES CONTINUE ALL WEEK LONG!

Check out our great Seasonal Scarves!

100% Acrylic Super-versatile hand- crocheted long BoHo Scarves by Niema.

The NFC hand-crocheted BoHo scarves are light and airy with 'open-weave' effects for warmthand versatile 'breathability'.


All our hand-made apparel and accessory items are easy-care and functiuonal.

VISIT OUR SISTER SITE TO ORDER:

Niema Foxe Creations BoHo Scarves




NEW ACCESSORIES FROM THE NFC

LINE WILL SOON BE AVAILABLE!

ALL ITEMS ARE HAND-MADE HERE IN USA


AND ARE EASY-CARE AND WEARABLE ALL YEAR.


NEW NFC BOHO SKIRTS AND

ACCESSORIES NOW IN


PRODUCTION! CHECK BACK


SOON FOR MORE INFO!!




WELCOME NEW ADVERTISER

CASHERE IN LOVE

FOR FALL!





Enjoy the Holidays!




Welcome the Xmas Season in

Peruvian Connnection's

Basket Motif Baby Alpaca Pullover

just right for suddenly cool weather. Pair any of Peruvian's ensembles with any of their coats to keep stylishly warm during the Fall or Winter weather!


Pair Peruvian apparel with any NFC

Ultra-long BoHo hand-crocheted scarf!

Accessorize with Peruvian Connection!


Cyber Savings Are Here!

Use code: JOLLY25